If I had a flower for every time you made me smile,
I'd be walking in an endless garden.
- Author Unknown


There are varying opinions as to the origin of Valentine's Day. Some experts state that it originated from St. Valentine, a Roman who was martyred for refusing to give up Christianity. He died on February 14, 269 A.D., the same day that had been devoted to love lotteries. Legend also says that St. Valentine left a farewell note for the jailer's daughter, who had become his friend, and signed it "From Your Valentine".
Other aspects of the story say that Saint Valentine served as a priest at the temple during the reign of Emperor Claudius. Claudius then had Valentine jailed for defying him. In 496 A.D. Pope Gelasius set aside February 14 to honour St. Valentine. Gradually, February 14 became the date for exchanging love messages and St. Valentine became the patron saint of lovers. The date was marked by sending poems and simple gifts such as flowers. There was often a social gathering or a ball.
The gift of flowers on Valentine's Day probably dates to the early 1700s when Charles II of Sweden brought the Persian poetical art called "the language of flowers" to Europe. Throughout the 18th century, floral lexicons were published, allowing secrets to be exchanged with a lily or lilac, and entire conversations to take place in a bouquet of flowers.
In the Middle Ages, young men and women drew names from a bowl to see who their valentines would be. They would wear these names on their sleeves for one week. Hence the phrase "wearing your heart on your sleeve"

Love Letter Gallery
- five simple but elegant love letters which you can use "as is" or modify to suit your individual needs
Over 1 billion valentine cards are sent in the USA each year -- second in number only to Christmas cards, according to the Greeting Card Association. (The happy day is also celebrated in Canada, Mexico, the United Kingdom, France and Australia.) Around 85 percent of all valentines are purchased by women.

History of Valentine's Day History Channel.com


Vous êtes mon chéri, je t'aime pour toujours
Translate your love letter into a romantic language!


ivillage - How to Write a Love Letter
Some people used to believe that if a woman saw a robin flying overhead on Valentine's Day, it meant she would marry a sailor. If she saw a sparrow, she would marry a poor man and be very happy. If she saw a goldfinch, she would marry a millionaire.
Known as "Sweetheart City"... Loveland, Colorado re-mails valentines with a special cachet and postal cancellation lovingly hand-stamped on each card by volunteers from February 1st to the 14th. An average of 300,000 cards are re-mailed each year from all 50 states and approximately 120 countries. Now in its 60th year Lovelanders are very proud of their program that sends a message of love around the globe.
Loveland Colorado - Valentines Day Remailing Program
To have your valentines card re-mailed from Loveland, enclose your pre-stamped, pre-addressed Valentines with return address in a larger 1st class envelope to:
Postmaster
Attn: Valentines
Loveland, CO 80538-9998
To make a donation to the program or for more information: (970) 667-6311

Love Letter Writing Guide - How to Write Romantic Love Letters
By Ladi Lashkari

What can be more romantic than sending a handwritten love letter to your loved one, full of romantic words and genuine feelings you have for him/her? Love letters are one of the best ways to show your special loved ones how you feel for them and how much you love them.

A heartfelt love letter also makes the perfect gift for Valentine's Day, but you don't have to just limit yourself to that specific day. Every day is a great opportunity to make your loved one happy by sharing your deepest feelings with him/her.

The great thing about love letters is that you don't have to be a poet or a skilled "writer" to be able to write them. Everyone - and I really mean "everyone" - can do it.

Because they are just about putting your romantic feelings into words genuinely - even in very simple words. This openness is what makes love letters special.

To write a more romantic and heart warming letter, here are some questions that will give you good ideas to write about:

Idea #1:

What was the first time you felt you were in love with him/her? Did anything special happen that made you realize your love?

You can describe in clear details how it happened and how you felt and it will mean the world to your loved one. I promise. :-)

Idea #2:

What is the #1 thing he/she has that makes you feel so much in love with him/her whenever you think about it? It could be about looks or about personality.

For example you may say "the way her face shines when she smiles", or "the way his eyes always bring peace and love to me when I look into them."

Idea #3:

What positive changes have you made since he/she has entered your life? What valuable lessons have you learned from him/her?

For example it could be that before you met him/her, you were pretty shy and didn't fully believe in yourself and your unique abilities, but he/she helped you love yourself more and be proud of who you are.

When your loved one reads this, she will practically feel on clouds because he/she sees what a big difference he/she had made in your life.

Idea #4:

It's also a good idea to include a heartfelt romantic love poem at the end or the beginning of your letter. Sometimes nothing can show how we feel better and deeper than a good poem.

Idea #5:

And as the last tip: Don't forget to say "I Love You" at the end of your letter. This simple yet effective sentence will really seal the deal in your loved one's mind.

Wish you a wonderful life full of love,

Ladan Lashkari

http://EzineArticles.com/?Love-Letter-Writing-Guide---How-to-Write-Romantic-Love-Letters&id=360950 About the Author: Ladan Lashkari is giving away a FREE collection of beautiful, romantic love poems that are perfect for including in your love letters. To grab your copy of these poems, drop by http://www.LovePoemsWorld.com while they are still available. Article Source: http://EzineArticles.com/?expert=Ladi_Lashkari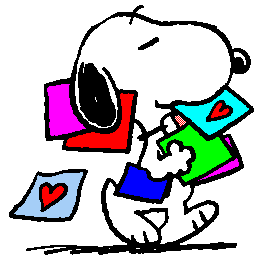 If I could be the postman
For just one single time,
I'd choose to carry Valentines
So lovely and so fine.
I would not mind the heavy load,
Or mind my tired feet.
If I could scatter happiness
All up and down the street.

The true History of Valentines Day

CanTeach: Songs & Poems - Valentine's Day

"Shall I compare thee to a summer's day?"

Shall I compare thee to a summer's day?
Thou art more lovely and more temperate:
Rough winds do shake the darling buds of May,
And summer's lease hath all too short a date:
Sometime too hot the eye of heaven shines,
And often is his gold complexion dimm'd;
And every fair from fair sometime declines,
By chance, or nature's changing course, untrimm'd;
But thy eternal summer shall not fade,
Nor lose possession of that fair thou owest;
Nor shall Death brag thou wander'st in his shade,
When in eternal lines to time thou growest;
So long as men can breathe, or eyes can see,
So long lives this, and this gives life to thee.
William Shakepeare Sonnet 18

Valentine's Day Jokes
By Sean Carter

If you are looking for a few good laughs on Valentine's Day, then some Valentine's Day jokes are just right for you. Laughter is always a good medicine and bet you know it. So if you are trying to bridge a gap with someone you love this Valentine's Day, try doing it with a few jokes. The Valentine's Day jokes are a unique blend of love and fun and will surely make your beloved laugh, grin and smile. And if you are nursing a broken heart, then shun those tears because the Valentine's Day jokes are here to cheer up all troubled souls. Celebrate loving yourself on Valentine's Day with the help of these Valentine's Day jokes. Valentine's Day is a day to be happy, to feel loved and pampered. So spread the joy around with the help of these jokes listed below.

Shocking Love

A little girl asked her grandpa if it would be very wrong of her to send a card to Osama on Valentine's Day. The old man was visibly shocked and asked her why she wanted to do so. "If I send him a card on Valentine's Day, then he might think that I am not bad, and that little kids are not bad. So he might stop hating us and gradually stop hating others and also stop killing. Then he can come to us and say that he loves us" replied the little girl. Her grandpa was really touched by this thought of his granddaughter and went to give her an appreciative hug, just when she said: "then when he comes out in the open, the army can shoot him !"

Business as Usual

At the post office Roger noticed a middle aged, stout and bald man with many heart-shaped envelopes. He was sticking 'love' stamps on each envelope and was spraying them with perfume. Obviously curious, Roger went up to him and asked him what he was doing. With a big grin, the man replied: "I'm sending 5000 Valentine's Day cards signed "guess who". Roger was taken aback—"But why on earth ?" The man replied—"You see I'm a divorce lawyer !"

Chocolaty Wish

Six year old Sandy and her mom Julia both loved chocolates. On Valentine's Day, Sandy and her dad gave Julia a big box of chocolates. After a few days, Sandy began to eye the chocolates, hoping to pop a few when no one was looking. She quietly got into the kitchen and just as she was about to reach for the box, her mom said, "If you touch it you have to eat it." Sandy's eyes lit up and she patted her hands over all the chocolates. "Does that mean I get to eat it all now ?"

Some Crazy Valentine's Day One-Liners:

"Did I tell you about that wonderful beaded dress I almost bought for you ? But then I thought you'll look great without it, just the same."

"This restaurant's terrible, but it was the only place offering 50% off on Valentine's Day dinner, so I had to bring you here."

"I know you don't eat stuff with faces, that's why I ordered turkey legs."

"It's been much better ever since I accepted that my Valentine's Day dates would never be smart."

"My ex and I came here for our first date. Isn't that nostalgic ?"

"Weren't you the geekiest person in college ? How did you do a makeover ?"

"Oh ! You're having that ? Excuse me, got to run to the ATM."

"Thank god I listened to my friends, or else I would never have called you back."

---

Sean Carter writes on holidays, Valentine's Day and world events. He is a writer with special interest in ecard industry and writes for 123greetings.com. He is an active blogger at Valentines Day Blog. Article Source: http://EzineArticles.com/?expert=Sean_Carter
http://EzineArticles.com/?Valentines-Day-Jokes&id=412538