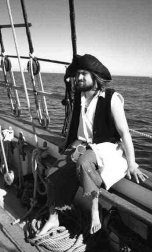 Pirate: Dark colored sweats, torn/cut-off below the knee, wide large belt or sash, long socks or tights, bandana around head, one gold hoop earring, white long sleeve tattered shirt,
(burn holes are good) scarves and around waist and head, torn and tattered vest,
complete with cheap toy sword & musket.
Eyepatch optional...Some pirates had two good eyes!
Striped thigh high socks look great, but I know of no pirates that wore red & white striped shirts except the ones at Disneyland.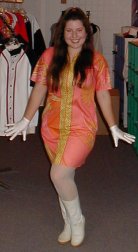 Go-Go Girl: shimmy all over the party in tall boots, short mini skirt or dress, gloves and a poofy hairdo. ...the more day-glo the better! Big hoop earrings, and lots of eye makeup, sky blue eyeshadow!
Nerd: start with plaid pants that are just too short, button-up shirt that does not match, bow tie, white socks, dark ugly shoes and glasses with masking tape around the nose piece. Stick a calculator in your pocket. (or a slide rule if you have one!) Be sure to add extra grease to your hair!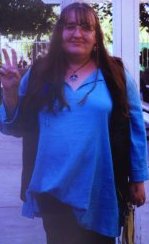 hippie tie dye shirt, leather vest, long straight hair, round john-lennon glasses, peace sign necklace, bell bottom pants, a anti-war sign to carry. flower power!
TOURIST: Wear bermuda shorts, a floral button up shirt, white shoes with dark socks up to the calf, a large floppy hat, sunglasses with the tag on, sunscreen in your pocket, a fanny pack, and a camera around your neck.
The easiest and cheapest Halloween costume I ever made was for my son when he was about 10. It was a caveman costume. I have made a fake fur coat for my husband so I took the scraps and tied them together to make a costume. The odd shaped pieces made it look like a real animal skin. He put make-up on to look dirty and I think we made some kind of stick for him to carry. Pat W, Omaha, NE
Roman Emperor/Toga - tie the corners of a white sheet, slip it over your shoulder, make yourself a leafy crown, you are ready to party!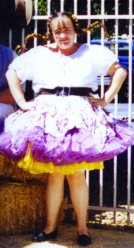 Square Dancer:for this costume I used two tule skirts from the thrift store, a peasant blouse, a modified skirt, and I ran hangar wire through my hair to create pippi longstocking style braids. I won the costume prize on "wild west day" at my work, hahaha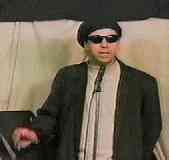 beatnik black turtleneck, dark sunglasses, a poetry book, cigarettes. like wow man. snap your fingers and make up nonsensical nonryhming poetry.
Cheerleader: Short skirt, pleated is best, coordinating sweater with a big initial on the front, bobby socks, tennis shoes, hair in ponytails, toy pom poms or a paint up a homemade cardboard megaphone! (then you can yell trick-or-treat though it!)
Witch: Wear all-black clothes, and draped as possible, but anything will do, depending how "modern" you want to be. a great witchy wig idea: a hula skirt worn on your head, under your hat! Try mixing some regular green halloween make-up with ladies face make-up for a great paste-y green color! spread it on your arms too, if they are showing... decorate your witch's hat with black or purple tulle, flowing down behind you, add a plastic spider too! very dramatic!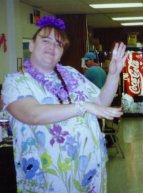 Hula Girl:depending on the weather, wear either a grass skirt and a bikini top, or a floral mu-mu dress. Add a flower lei, and shell accessories, and flowers in your hair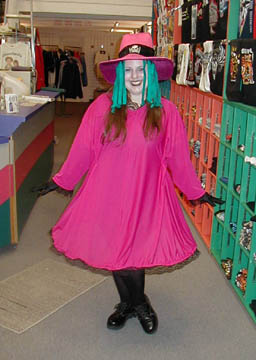 SHOCK from
"Nightmare Before Christmas"
Made from a store-bought pattern.There are many simple and not-so-simple costume patterns & fabrics available at Fabric.com... Wholesale to the public!
and joann.com
Mummy: Take an old white sheet, lightly dye it in tea (to give it an aged look), cut into strips, and then hot glue it to old sweat pants, shirts and shoes. You can use a ski mask for the head and face. Note - use newspaper to inflate the clothes when using the hot glue so that the front doesn't get glued to the back.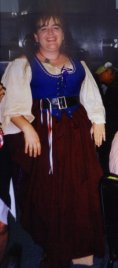 Gypsy: Long skirt, or several layered skirts, off-shoulder gathered peasant blouse, lots of beads and earrings, long scarves around waist and head, carry something mystical, like a "crystal" ball or astrological chart!

Vampire A long black coat & cape, white shirt is a good backup. Paint your face white, then use a lip pencil to draw bite marks on your neck. Outline eyes in black, paint lips red ... Wear a cummerbund or sash and large bling rings. Don't forget the teeth!!
Little Dutch Girl. blue dress, white apron, yarn wig bangs and big thick yellow braids wooden shoes, if you can find them!
"The Bride From Hell". I used a standard bridal pattern, but made it in black satin. The yoke and sleeves were black sheer with black sequin spiderwebs, and I put large plastic spiders wherever you might expect bows. I cut the train in a batwing scallop. Then I made a veil out of black tulle, with a headpeice of plastic bats and spiders. It was an expensive costume, (over $100) but I wear it every year, so I'm getting my money's worth--. Margo A.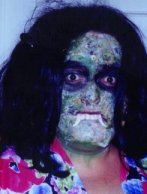 zombie - torn up clothes, deans gory blood flesh recipe, below, make it extra thick, add cereal like corn flakes for really gross texture, paste it all over your face..
many of the photos above are of myself, my friends & family - if you have a photo of yourself in a fun easy halloween costume, we'd love to post it here for everyone to enjoy - just send your photo to nancy@dumptv.com
---

Doing business in the same location since *1957!
THE LARGEST COLLECTION OF COSTUMES, THOUSANDS TO SELECT FROM! Specializing in Infant Costumes, Children's Costumes, Adult Costumes (All Sizes: XSmall -- 4XL), Medieval costumes, Renaissance Costumes, Wigs, Masks, Makeup and Props.