Strawberry Daiquiri Cake


Strawberry and lime create a cool taste of the Tropics in a cake you can frost while it's still warm.

Cake
1 package Betty Crocker® SuperMoist® white cake mix
3/4 cup water
1 package (0.14 oz) strawberry-flavored unsweetened soft drink mix
1 tablespoon grated lime peel
3/4 teaspoon rum extract
1 package (10 oz) frozen sliced strawberries, thawed, undrained
3 eggs
Lime Frosting
1 tub (15 oz) Betty Crocker® Pour & Frost™ vanilla frosting
2 teaspoons grated lime peel
Garnish
8 fresh whole strawberries
1. Heat oven to 350°F. Grease bottom only of 13x9-inch pan with shortening or spray bottom with cooking spray.
2. In large bowl, beat cake mix, water, drink mix (dry), 1 tablespoon lime peel, the rum extract, thawed strawberries and eggs with electric mixer on low speed 30 seconds. Beat on medium speed 2 minutes, scraping bowl occasionally. Pour into pan.
3. Bake 30 to 35 minutes or until toothpick inserted in center comes out clean. Cool 15 minutes.
4. Uncover tub of frosting and remove foil. Microwave frosting on High 20 to 30 seconds or until pourable. Stir in 2 teaspoons lime peel.
Pour frosting over cake; spread evenly. Serve warm or cool.
Store loosely covered at room temperature.
Just before serving, cut whole strawberries in half, leaving leaves on.
Garnish cake with strawberry halves.


Berry-Banana Freezer Pops
Stay cool this summer and save with homemade Berry-Banana Freezer Pops. Blend your own fresh mixture of strawberries, yogurt and bananas, and freeze for a cool and refreshing inexpensive treat!
2 packages (10 ounces each) frozen strawberries in syrup, slightly thawed and undrained
1 container (6 ounces) Yoplait® Original strawberry yogurt
1 small banana, mashed
10 wooden sticks with rounded ends
1. Place strawberries, yogurt and banana in blender. Cover and blend until smooth.
2. Pour slightly less than 1/2 cup fruit mixture into each of ten 6- to 8-ounce freezer pop molds or paper cups.
Insert stick into each pop. If using paper cups, place on cookie sheet. Freeze at least 8 hours.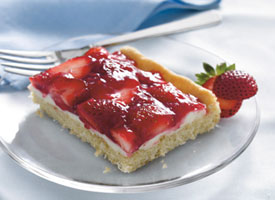 Strawberries and Cream Dessert Squares
Crust
1 pouch Betty Crocker® sugar cookie mix
1/2 cup butter or margarine, softened
1 egg
Filling
1 cup white vanilla baking chips (6 oz)
1 package (8 oz) cream cheese, softened

Topping
4 cups sliced fresh strawberries
1/2 cup sugar
2 tablespoons cornstarch
1/3 cup water
10 to 12 drops red food color, if desired
1. Heat oven to 350°F. Spray bottom only of 15x10x1- or 13x9-inch pan with cooking spray. In large bowl, stir cookie mix, butter and egg until soft dough forms. Press evenly in bottom of pan. Bake 20 to 25 minutes or until light golden brown. Cool completely, about 30 minutes.
2. In small microwavable bowl, microwave baking chips uncovered on High 45 to 60 seconds or until chips are melted and can be stirred smooth. In medium bowl, beat cream cheese with electric mixer on medium speed until smooth. Stir in melted chips until blended. Spread mixture over crust. Refrigerate while making topping.
3. In small bowl, crush 1 cup of the strawberries. In 2-quart saucepan, mix sugar and cornstarch. Stir in crushed strawberries and 1/3 cup water. Cook over medium heat, stirring constantly, until mixture boils and thickens. Stir in food color. Cool 10 minutes. Gently stir in remaining 3 cups strawberries. Spoon topping over filling.
Refrigerate 1 hour or until set; serve within 4 hours. Store covered in refrigerator.


Fresh Strawberry Pie
Just like what you see in the bakery window, except you made it yourself!
Perfect Baked Pie Crust
1 1/2 quarts (6 cups) strawberries, hulled
1 cup sugar
2 tablespoons cornstarch
1/2 cup water Red food color, if desired
1 package (3 ounces) cream cheese, softened
1 teaspoon grated lemon peel
1. Make Perfect Baked Pie Crust.
2. Mash enough strawberries to measure 1 cup. Mix sugar and cornstarch in 2-quart saucepan. Gradually stir in water and mashed strawberries (add 1 or 2 drops food color if deeper red color is desired). Cook over medium heat, stirring constantly, until mixture thickens and boils. Boil and stir 1 minute; cool.
3. Beat cream cheese and lemon peel until smooth; spread in pie crust. Fill crust with remaining strawberries. Pour cooked strawberry mixture over top. Refrigerate about 3 hours or until set. Store covered in refrigerator.