~~ I Love Eeyore! ~~
He's Gloomy but Sweet!



This is a fun webpage all about Eeyore,
Eeyore Birthday Parties,
and collecting Eeyore stuff ...
with images, sounds, videos, e-cards, and Disney chat!
based on the "Winnie the pooh" works copyright A.A. Milne and E.H. Shepard and copyright Disney


I REALLY DO
LOVE EEYORE!!
... I love the gloomy things that Eeyore says.... I love how he is always having bad things happen to him, yet he maintains his sad yet optimistic attitude. I love how he looks, gloomy grey, or blue, or sometimes purple.
Eeyore has gained popularity over the last few years, thanks to Disney. We see much more Eeyore, alongside the other pooh characters. I have a friend, who says that that only girls like Eeyore, do you think that is true? ... haha maybe!
I like to watch Pooh TV shows, even though sometimes, Eeyore is not even in the episode!



I have collected way too much eeyore stuff.
It's a gloomy habit, I guess :D
... I have been collecting for a while.
I have a several sizes of stuffed Eeyores, a little Eeyore with a rattle in his nose, 3 different Talking Eeyores, A snowman eeyore, a "happy ears" eeyore, and eeyore that plays a drum... 10 Eeyore T-shirts, eeyore keychains, 4 eeyore fleece jackets, 9 Eeyore coffee mugs, an Eeyore bubble-blower, 3 sets of eeyoure pajamas, a couple of Eeyore Christmas ornaments, and other stuff too.

My mom MADE me an Eeyore Blankie! It's so sweet! It's fleece and warm, and has a big Eeyore in the middle! ...oh my goodness I love it so much!

My brother gave me this cutie little Eeyore mini-flashlight, his nose lights up!!


I'm not sure what this is called, but my friend Sheila gave me what I call a "dream set" that includes an adorable Eeyore eye-mask, notebook, pencil and flashlight! ...The bag has a chilly wintertime Eeyore! Now I can keep track whenever I dream of Eeyore!
How sweet!

Also, my pal Ed gave me cool Eeyore & Tigger pins from Disney's California Adventure!
:-)

Thanks SO much to everyone who gave me such "rad" Eeyore Christmas gifts!

More Eeyore Stuff!


My husband ordered this Eeyore towel for me from the Disney Store, and here is the photo from the website:


looks like a normal beachtowel...right?



well when it arrived...


LOOK HOW BIG IT IS!!!!!!


that's me standing behind the towel...
its 70 inches long!! sweeeeeeeeeet!!!
I'm totally ordering another one right now!


He also ordered me a special Springtime Eeyore flag on clearance! sweet!



My mom borrowed my car a few weeks ago, and several days later, I looked in the trunk and she had left me this SWEET Eeyore surprise! "Love to Hug" Eeyore... He talks when you hug him!!
Thanks Mommy!!!


this is a cute eeyore that I dont have...
(a hint to friends and family!)

... I got this BIG 24-inch plush Eeyore from a 2nd-hand store for only $7.00! can you believe it? I couldn't! I was so excited! He's never been played with and he's so so BIG! .... and I also got a sweet hugging Eeyore that was originally purchased at Disneyland, but I got it for only $10. He lays down flat, and gives great hugs!!!
Such sweet deals on sweet sweet Eeyores!!!
| | |
| --- | --- |
| This is a photo of a tank top that I own, it's so cute :) I have always wanted an eeyore tank top, and I finally found this one on eBay | This is a sears curtain, I'm thinking from the 1970's. found it at a thrift store, $1.59 ....hows that for bargain shopping? |

I got this talking Eeyore for Christmas 2000- He's animatronic, and answers all my questions with gloomy yet positive answers.
He also asks me cute questions like "Could I get a hug?" He's very cute.

I have a VERY cool Eeyore umbrella that I got at the Disney Store that used to be on 3rd Street in Santa Monica. It is so cute. It's got pictures of Eeyore all over it, and it says "Eeyore Gloomy Weather" Adorable!!
I always carry it when I go to Disneyland, especially when its sunny!
I got this cool trivet at Disneyland
several years ago...I love it so much!
(I also have the Tigger trivet,
because it was so cute,
even though I don't usually collect Tigger stuff...)
I bought this sweet sweet
Eeyore plate from catalogcity.com...The bottom says "Some Things Look Better Upside-Down"
This and many other adorable eeyore plates are available at eeyore-gifts.com!
I love this plate! It's hanging on my wall right now!

Happy Eeyore Birthdays!

People keep writing to me to ask if I have ever seen an Eeyore birthday party theme at a party store, and I am sad to say that I have not. You could check for eeyore at shindigz.com ... While there are general Pooh themes that have a little Eeyore in them, along with the other pooh characters, Eeyore does not yet have his own theme, that I have seen.

I have, though, come up with some interesting ideas for you to try to make your own cool Eeyore Birthday party:

Go with a grey, purple, and blue theme!

Let the kids make Eeyore ears out of gray and pink construction paper. (Use cheap headbands to secure them to their heads) . Make the ears the same shape as rabbit ears, except these should hang down around their faces. ...
I see furry versions of this at Disneyland all the time.

Create your own eeyore greeting cards
or party invitations at Zazzle.com.
DOZENS OF EEYORE DESIGNS!
Choose from hundreds of existing card designs
or create your own. Ships in 24 hours.

You could print, or have your local copy/print shop create an enlarged color picture of Eeyore, and you could create a "Eeyore Lost His Tail" game. (Played with a blindfold, just like pin the tail on the donkey) ... add a little black yarn to the ends of the tails, how sweet :-)
You are sure to find an image you like at my Gloomy Gallery!

Make a Eeyore piñata, from scratch, if you know how to do that sort of thing, or "cheat" by applying grey (designmaster non-toxic) spray paint* to a store bought donkey or horse piñata. ... check at a online pinata store, for a "horse" pinata... some of them are darn close to eeyore-shaped. (they also make custom pinatas, you could try ordering a grey horse) ...then add some eeyore fruit snacks and small eeyore toys to the candy-filler.
*I have not tried painting a piñata myself, and I'm not sure how the tissue will take the paint. Designmaster paints are available in floral supply at your local craft store.... start with a very light coating of the spray paint, and let it dry completely between coats... ya dont want all the tissue to bunch together, it could make the pinata unbreakable!


One cute thing you could do with Eeyore images, is you could use a greeting card program to print them on to invitations and signs and placecards, for a really cute home-made birthday party theme! Especially for someone who's not too excited about getting older!


Let me know if you try any of these ideas,
and whether they work out for you or not, and please, send a picture from your Eeyore Party! I would love to see your decorations & ideas, and to maybe share them here!!!

When he speaks of Birthdays, Eeyore says stuff like
"oh no, not another birthday"
or
"birthdays... you might as well get used to them,
they happen ready or not."
or
"After all, what are birthdays?
Here today and gone tomorrow."




These folks in Austin Texas throw Eeyore a party every year!!
Check out Austin's Eeyores Birthday Party




Birthday Party Supplies by ShindigZ.com
























FREE Custom Eeyore "E"cards!
send your friends an eeyore in their email!
perfect for every occasion! - press the "click here button"

I have 75+ images and photos of Eeyore,
and a few sounds as well.
Some of the photos, I took myself at Disneyland in California.
The Gallery also has links to
cool Eeyore desktop themes, sounds, and goodies!



Due to abuse of the files, I cannot keep the images in a public place.
This was happening especially on message boards, by inconsiderate people
that do not upload images to their own servers. Every time someone links to my images, it costs me money...
It's too bad that abusive people ruin the free stuff for the rest of us.

I want to make the collection available
to honest Eeyore fans, so in order to view the Gloomy Gallery,
you can write to me, and I will send you the URL.

of course, if you just can't wait... :-) try

Gloomy Gallery Giving

If you need to see the Gloomy Gallery today,
you can get the address right now...
for a donation OF ANY AMOUNT!

Give Generously to
Gloomy
Gallery
Giving

It will only take a couple of minutes!
It's totally worth it, I have spent hours and hours
gathering, editing, creating, and uploading these images.

Click on the PayPal Button, and after your donation,
you will be directed to the Gloomy Gallery.
ANY AMOUNT IS FINE!

Here's what some folks have said about the Gloomy Gallery:

thank you for sharing that page with me, it's gorgeous and
you've done well to build up such a good collection! Robynne (in Australia)

This is awesome, Thanks. Debbie

Thank you for all the wonderful images! I've always loved Eeyore!
I'm sure it took you a lot of time to put your collection together online. Thank you again. Lynn

Thanks sooo much. I just love them.
They are the best i've ever seen. -- Beth Lee

What a wonderful wonderful site!! I just love Eeyore....the pictures at Disneyland...are simply spectacular!!
Thank you so much for sharing. -- Debbie
Thanks so much for the link! It's the best collection of Eeyore pics I've seen so far! -- Laura

Thank you soooo much for letting me view your gallery. I was beginning to think I had seen them all but you have so many pictures I haven't seen yet. .... Thank you again. Your gallery is the best I have seen. Thank you for putting so much time and effort into it. --- DLCeeyroe

Hello! thanks for the link- I loved it! -- Angie
... d pitchaz in ur galleRy R fuLLy cute!!! i juz luv dem s0o0oo much..!!! °°°«·´¨*·.¸¸.*khOy22 *.¸¸.·*¨`·»°°°"

I love your site thank you so much for sharing it with other Eeyore fans. -- Wendy

Thank you so much for the link, I really love how you put it together. - Naomi

Thank you, thank you, thank you!!!! Many of those images I had never seen before, and the pics of Eeyore at Disneyland were sooo cute! Eeyore hugs, Shastin :-)
Give
Generously
to
"Gloomy
Gallery
Giving"

Thank You so much for such a wonderful site. I will really enjoy the sounds, but my main reason for visiting is that I am doing my whole kitchen with Eeyore. I will be painting my own ceramic tiles for the countertop and walls. I really appreciate that you had my favorite donkey in so many poses. -- tazyore

Thank you so much for the link, I really love how you put it together. -- grania13

I really liked your site. It was great. -- Christa

I absolutely loved your gloomy eeyore page. The tram sign is sooo adorable. great job! and thank you! --lilchick37


thanx. the gallery is great. --Carleyb92002

thanks for letting me view your gallery i thought it was adorable.
I am planning on getting an eeyore tattoo some time in the near future
and you have given me some great ideas thank you. `Shuralee

I love your gloomy gallery. You are very talented, and
have some pics of Eeyore that I have never seen before. Thank you very much for sharing... Debbie

Thanks! You have some really great images and some links I hadn't seen yet. Have a great day and thanks again, Leslie
Instant Access
to the
Gloomy
Gallery


Great job! I love your website!
It's a great place to see all things Eeyore! -- Dottie

-------------------------------------------
Thanks so much for supporting
this Eeyore Page!
Get the Gloomy Gallery address for FREE
by clicking HERE to receive the URL via email.



Christmas 2001 ... I got a plush Eeyore made by Gund
that has a big ladybug on his back! He's sweet!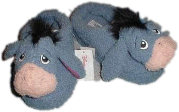 I also got these Eeyore slippers from the Disney Catalog!
I want to wear them, but I'm not gonna get them dirty! So they are sitting on my Eeyore shelf, with other little Eeyores sitting on top of them!
One time I was at Disneyland, I found a really sweet talking Eeyore.... He says different things depending on whether you pull his tail, squeeze his belly, or pull the butterfly off his nose.
I had seen him for sale on eBay, but I did not know that I could buy one at Disneyland! -
He even made my friend cry, when he said " never mind me, no one else does"... ... he's so gloomy :-)
Whether at Disneyland or World or staying at Orlando Florida hotels, Disney toys and souvenirs are everywhere, especially in Florida, and you can find them as far away as Miami resorts and beaches. Disney EVERYwhere :)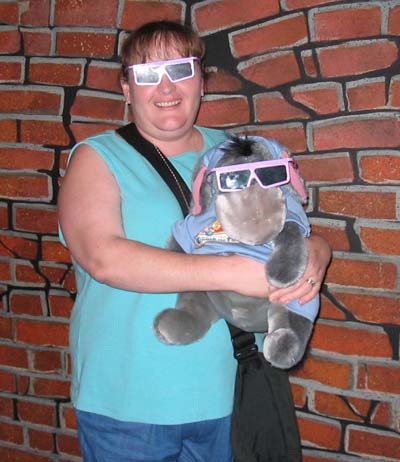 Eeyore & his friend are ready to see "Muppetvision 3D" at Disney's California Adventure!



What's your favorite Eeyore saying?
Send in your "eeyore-isms"!
"nobody notices me" - Lee

"Oh Bother" (he says that all the time) -- Marni Lyn
"Why are people hugging me? Is it Valentine's Day?" ---Crystal

"oh well ".-Kelsey
''OH, WOAH IS ME''------LISA FROM N.Y
"A trifling matter, and fussy of me, but we all have our little ways." - JenR
'life is like a box of thistles. And i get handed all the tough and prickly ones!!' :-) jESSIE-LILL
some people care too much..i think its called love. :) -- Mark
'what's a man when he's nothing?'--Colin
"Rainy days are made for reflection" ~~Shantina

"Nobody minds, nobody cares. Pathetic, that's what it is" - Carol
Today is a fine day to do anything -- Ali
nobody loves me nobody seems to care -- kate and saff
In an episode of piglets b-day, eeyore is in a box and when piglet opens it he says, " I didn't know what to get you so I got you me." I loved it when i heard it and i say it to my girlfriend all the time. -Scooter from South Carolina
"Thanks for noticing me" janita
Days, Months, Who knows? ~~~ Victoria
A HUG WOULD BE NICE - Bonita
dont mind me nobody else does! - thats my fav eeyore saying!! - Liklemizgiggles

"First the wind...now the rain." - Shannon
My nose sorta tickles, sorta - Alison
Good morning, if it is a good morning, which I doubt - Sian Sian from england
"IT IS BAD ENOUGH BEING MISERABLE, BUT IT IS EVEN WORSE WHEN EVERYONE ELSE CLAIMS TO BE MISERABLE, TOO."--MEB
"It makes no sense to be in a hurry. The sooner you get there, the sooner they ask you to leave" --geodax

Upside down always turns my frown around! ~Eeyoresgurl304
Your hugs turn my frown upside down. --Mish
Go ahead...smile and get it over with -- Krissy Lynn
We can't all and some of us don't, that's all there is to it - INfaNtaLst
"A mostly sunny day, to some, can look a lot like partly gray " -May
if nothing changes it will all stay the same!------andrea
Dont mind me nobody else does --justin
"I'm not sad, I'm just not very happy" --ferwad
"Here today gone tomorrow" --Sara

"Oh I'm stinkin'...figures" --melissa
good day to you so nice of you to notice me,
looks like rain wait and see,
likely rain all over me,
guess thats the way that it has to be,
here in my gloomy place!!
--Str8outbrat

I had a feeling I'd lose my tail today --justin
"I like turning especially 'round" --catstorb
"It's not much of a house, just right for not much of a donkey ." --leah
Don't mind me I'm just to my gloomy place -ASHLEY
My nose sorta tickles, sorta --justin
IT'S JUST LIL' OL' ME- ALICIA
"poohs my best friend are you my friend too?" - jade
"Funny things accidents, you never have them until you're having them." --eeyorechica

"Oh Bother!" --dani187
Nice day, probably rain --justin
"don't worry be happy"--danny
"Good Morning, If It Is A Good Morning..." -- Charlane
Hello its just me eeyore --justin
"IT ISN'T AS IF THERE WAS ANYTHING VERY WONDERFUL ABOUT MY LITTLE CORNER. OF COURSE FOR PEOPLE WHO LIKE COLD, WET, UGLY BITS IT IS SOMETHING RATHER SPECIAL."--MEB
"It's not much of a tail, but I am sorta attached to it" --misty
Thanks for the hug --justin
"Thank's for noticin' me." --Jen371

Today is a fine day to do anything -- Ali

No...Rain's falling...This is a good hair day... Fr: Dayan-Indonesia

"Nobody minds, nobody cares. Pathetic, that's what it is" -- Carol

A HUG WOULD BE NICE, IF YOU DON'T WANT TO MOVE YOUR ARMS, AT LEAST SAY THAT YOU WOULD GIVE ME ONE~~~~COREY
nice day, probably rain, be good for the flowers - Lucie

Don't mind my tail probably lose it again anyways --justin
a hug would be nice- shandi
"HAVING YOUR MISSING TAIL RECOVERED IS ALL WELL AND GOOD, BUT REMEMBER THAT IT WILL HAVE TO BE REATTACHED. WITH A HAMMER AND NAIL."--MEB
Send in YOUR favorite "eeyore-isms"!
Do you LOVE Disneyland
like I LOVE Disneyland?





Apparently, I am more like Pooh than Eeyore...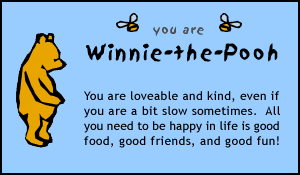 Take the 100 Acre Personality Quiz!

Eeyore Dancing!
My friend took this video at Disneyland on April 8, 2006. Eeyore dances with The Main Street Merchant Association Municipal Brass Band
- So Sweet!!!
Watch many more TZA Disneyland Videos on YouTube
it's the next best thing to being there!




Other webpages made by Me:
Nancy's Holiday Pages
crafts, recipes & more for
Halloween, Christmas, Easter, Valentines, and Thanksgiving

eeyore-gifts.com
your "one-stop eeyore shop"

Lilo & Stitch - Ohana Obsession
100acregifts.com
buy treasures with pooh, tigger, piglet and the whole hundred acre bunch

Nancy's Strawberry Shortcake Gift Shop



| | |
| --- | --- |
| ...thanks for visiting my sponsors! | |
| | |






Thanks for noticing me!
dumptv.com is powered by powweb hosting
simple html by
nancy 2012 comments/feedback